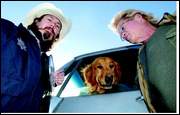 Rick Gunn/Nevada Appeal Lyon County Animal Services Supervisor Ted Bolzle, left, hangs out with Tom Blomquist, rescue representative for the Indigenous Nevada Trailer Dog Society, and Rusty, who needs a good home.
Life is better for the dogs of Silver Springs

Sally Taylor
November 5, 2004
They band together in a desperate cause, battling to protect man's best friend from the worst of human nature.

Silver Springs is not alone in its horror stories about abandoned and neglected pets, but it does seem to have more than its share.

Those in the forefront of the battle include Tom and Lee Blomquist, founders of the Silver Springs Spay-Neuter Project, and Lyon County Animal Services supervised by Ted Bolzle. Regionally, they work with many other individuals and animal-welfare groups.

The Blomquists moved to Silver Springs about nine years ago to escape Santa Barbara, Calif., expecting a more laid-back lifestyle.

"The week we moved in, we rescued seven animals within sight of our kitchen window," Tom Blomquist said.

They also rescued some kittens whose litter was being disposed of by being thrown against a wall.

Today, the Blomquist home in Silver Springs has been turned into a licensed dog sanctuary with 20 dogs and eight cats. A list of their animals is a list of hard-luck cases that would have been euthanized without a second thought.

Bumper is blind. Shadow has diabetes. Rusty ran out of time at the county shelter. Peka's and Gabby's owners moved without them. Chelsea, at 10 years, was too old to be adoptable; now she's 18. Truckers, called the "psycho dog," was found in the middle of Highway 50.

The Blomquists also have three adoptable dogs they are fostering until they find permanent homes.

As they rescued more and more dogs, Lee Blomquist went back to college to become a registered veterinarian technician. She now works with Dr. Lisa Hayden in Yerington as well as with her own pack of rescued pets.

"That was the best thing we ever did," said Tom Blomquist, who pays the bills by working as a banquet server for the Reno Hilton. "What would have been an emergency a few years ago is now something casual."

They also founded the nonprofit Silver Springs Spay-Neuter Project to educate and help people spay or neuter their pets.

"By this time (of my life), I expected to be dealing craps part time and studying history," Blomquist said, showing off his bookcase-lined office, which is now a "cathouse."

Other areas of the home are filled with dog crates, pens and rubber trash cans filled with various food mixtures. Outside, their yard is divided into numerous large pens, where compatible groups of dogs can romp and be segregated from less-compatible dogs. The hours from 8:30 to 10:30 a.m. are dedicated to feeding and dispensing pet medication.

Although they get help tending to the animals from friends and volunteers, there is little break time between caring for and calming their charges and finding help for other animals in danger.

"What I've learned is you can't rescue them all," Blomquist said. "Most of these animals we've had since the first year."

They can only take in another animal when one dies or is adopted. But many more Silver Springs dogs need homes. So the Blomquists focus their public efforts on reducing the number of unwanted pets in Lyon County by promoting spay-and-neutering projects.

Several years ago, it was that message that caused them to cross swords with the previous management of the county animal services. It had been lax about following state law that all animals over 4 months old would have to be neutered or spayed to be adopted.

Today, the Blomquists work closely with Lyon County Animal Control.

"Tom had valid points," said Bolzle, who recently became Animal Control supervisor. "Spaying and neutering animals is the law. We've addressed that."

Part of the problem, he added, was that shelter volunteers felt it was better to accommodate people who couldn't or wouldn't adopt if they had to spay or neuter the animal. But pets breed, and that compounds the problem.

Keeping control of the animal population in a spread-out county can be daunting.

Bolzle supervises three animal control officers and volunteer office staff who handle animals throughout Lyon County. Yerington has an animal shelter with 10 dog runs, and Silver Springs has 30 dog runs.

"We've had three calls already today from people wanting to bring in their puppies," Blomquist said early one afternoon on a tour of the shelter. "There are not enough homes for all of them."

"We have 30 dog runs," Bolzle said, adding that it's not unusual to pick up six to eight stray dogs a day. "We've taken in 800 dogs this year. A bigger shelter would only delay the problem.

"People want us to be a no-kill shelter, but we could have 1,000 runs, and they'd still fill up."

The shelter tries to limit euthanasia. Bolzle said October is their fourth month without euthanizing an adoptable dog. So far this year, they've put down 32 adoptable dogs because of overcrowding. But that is a fraction of two to three years ago, when 250 adoptable animals were euthanized.

The shelter staff works hard not only to find homes but to improve a dog's adoptability.

Staff and volunteers walk, play with, and begin training dogs. New owners are given help with training. They've expanded the "mobile adoption" process, which prepares animals with spaying or neutering and rabies shots so they're ready to adopt.

"We want to be sure we're adopting out a good-quality product," Bolzle said.

The shelter staff also strives to match an animal to an owner's lifestyle.

Bolzle said only one dog has been returned in the last year, and it was an adoption they had discouraged. An elderly woman fell in love with an Australian shepherd - a very active breed. Without enough exercise, Aussies


jumped from here

become hyper, mischievous and even destructive.

Even with all the work, an animal that starts out being adoptable, after months in a cage, may develop kennel stress.

"There are a lot of unadoptable dogs in this area - dogs that have been locked up in a pen for four years without interaction," Bolzle said referring to a recent case. "We don't have enough foster homes, people who know how to handle (dogs with behavior problems)."

Although few adoptable dogs are euthanized, so far this year, 230 dogs considered nonadoptable have been put down to make room for those that have hope.

"There's no magic deadline." Bolzle said. "We try to hold them until either they are adopted or kennel-stressed and they're no longer adoptable."

"We focus on trying to help them get dogs out of here," Blomquist said of his organization.

That includes helping potential adoptive families spay and neuter an animal or by providing free food. Sometimes a little help will even keep an animal in its original home.

Animal foster homes help when shelters get overcrowded. But there are not enough qualified people willing and able to take in animals.

Blomquist noted many people start taking in animals, but get in over their head. Some end up in court because the animals are neglected. A case currently in the courts could put another dozen animals up for grabs.

"It's not just the space, but the time to deal with individual animals," Bolzle said.

There are preliminary plans to expand the shelter to help keep up with the population. Bolzle would also like to see several satellite shelters to make it easier for owners to reclaim runaway animals.

Animal control and the spay-neuter project are also increasing efforts to educate animal owners about spay-neutering and basic animal welfare.

"I don't know if its working, to be honest," Bolzle said. "There's a lot of resistance to licensing dogs. But all a license does is prove to me that your dog has been vaccinated against rabies."

Another change Bolzle and Blomquist would like to see is outlawing such things as passing out free puppies at the grocery story, which is already illegal in Carson City.

"It's impulse shopping," Blomquist said. "(Pet ownership) is an eight-, 10-, 12-year investment."

But until people start taking responsibility for their animals, the problem will continue to grow.

Pointing to the dogs in the shelter, he added, "These are all the broken promises here. There are a lot of excuses why they can't take care of their pets. I have met people who move into campgrounds to save their dog."

"We're on the right track here," Bolzle said. "All in all, we're doing good."



Contact reporter Sally Taylor at staylor@nevadaappeal.com or 881-1210.
Dogs, cat continue to wait in shelter for permanent homes after owner dies
by F.T. Norton, ftnorton@nevadaappeal.com
October 30, 2004
SILVER SPRINGS - Two of four dogs and a cat orphaned when their owner was killed in a Mound House accident Oct. 14 are still looking for homes.

Cody, a black and white collie and Trixie, an older shepherd mix, remain at the Silver Springs Animal Shelter, said Ted Bolzle, Lyon County Animal Control supervisor.

"The Spay and Neuter Project is paying to have a nodule removed from Trixie's leg. Once we get her all fixed up, she'll be nice and pretty for adoption," Bolzle said.

Joan James, 79, died when the setting sun blinded her as she pulled in front of a truck from Highlands Lane onto Highway 50 East. She lived alone.

Tom Blomquist of the Silver Springs Spay-Neuter Project said James was an animal activist and would be thrilled to find out her dogs were being adopted.

Three of James' cats have already found homes and two dogs were placed after an article appeared in the Nevada Appeal.

"One of the dogs was adopted out to a family in Dayton, and the other was adopted to a family in Carson City," he said. "The folks from Carson called to say they wanted the dog in the paper and that's what they got."

He said the one cat left at the shelter from James will be ready for adoption following a 10-day treatment with antibiotics for an intestinal infection.



Contact reporter F.T. Norton at ftnorton@nevadaappeal.com or 881-1213.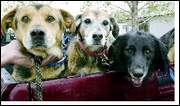 Cathleen Allison/Nevada Appeal From left, Carson, Trixie and Cody are up for adoption at the Lyon County Animal Shelter after the death of their owner in a traffic accident Thursday in Mound House.

Animals need homes after owner dies in crash
by F.T. Norton, ftnorton@nevadaappeal.com
October 19, 2004
SILVER SPRINGS - Three dogs and a cat, orphaned last week when their owner was killed in a Mound House accident, are looking for new homes.

Joan James, 79, died Thursday when the setting sun blinded her as she pulled in front of a truck from Highlands Lane onto Highway 50 East, according to the Nevada Highway Patrol.

"Joanie lived for her animals, and she'd be glad to know such effort was being for them," said Tom Blomquist of the Silver Springs Spay-Neuter Project.

James was active in animal welfare and "ultra-sensitive" to their needs, Blomquist said.

"She would take in dogs that she figured would not have a chance of getting a home."

Through his organization, Blomquist provided the former postal worker with food to feed her animals, and he and a friend had built a kennel in her Miriam Way back yard.

Often when Blomquist would deliver dog food, James would call a couple of days later and ask for more, he said. When he'd ask what happened with the food he just dropped off, "she'd say she gave it to people who needed it," he said. "She was just like that."

Following the three-car accident Friday, neighbors, who gathered at the intersection, spoke to one another about James' dogs being left alone in the house. Word got back to police, who contacted Animal Control.

Animal control officers collected the dogs and four cats Thursday night.

Ted Bolzle, Lyon County Animal Control supervisor, said three of the cats have already found homes, but he is still searching for someone to take dogs Carson, Cody and Trixie. A fourth dog, dropped off by James two days before her death because it was afraid of loud noises and she lived near a gun range, also needs placement, he said.

"These are just indigenous Nevada trailer dogs," Blomquist said. "Carson could be the dog in the movies running with the neighbor boy. He gets along well with other dogs; he rides well in the truck. What Cody likes to do is sit on the couch with Joanie and eat her ice cream, and Trixie ... well, Trixie always gave me this look like I was gonna cheat at cards."

Blomquist said all of the animals are spayed or neutered, and whoever adopts them will also receive 120 pounds of dog food from his organization.

"Joanie went through great efforts to take care of those animals. It would be heartbreaking if these dogs don't find a home."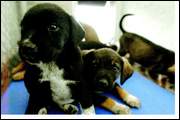 Rick Gunn/Nevada Appeal Eight lab-mix puppies were abandoned recently near the Carson River. The pups are being cared for by Lyon County Animal Services and are now up for adoption.
Abandoned puppies need homes

Robyn Moormeister, rmoormeister@nevadaappeal.com
August 13, 2004
Eight hungry, abandoned puppies were found in a Silver Springs recreation area at Carson River on Tuesday, putting the Lyon County Animal Shelter near full capacity and spurring animal lovers to find the dogs a home.

"I'm going to have to put out a 'No Vacancy' sign," Lyon County Animal Services Officer Ted Blozle said after he took in the eight dirty mutts Tuesday morning.

Silver Springs resident Judy Perry found the dogs while she and her four children hiked to the river for a swim.

Her kids immediately fell in love with them, but the last thing a busy mom needs is eight more mouths to feed.

"I thought about taking them for about three seconds," Perry said.

A dog lover and owner of black Labrador retriever Regina and pug Zeuss, she wanted the puppies to have a chance at a good home, so she brought them to the Lyon County Animal Shelter on Highway 50.

Twenty-nine of the shelter's 30 kennels are full, so shelter staff will have to place dogs together in one-dog kennels if they take in any more. Blozle said this is the season for discarded dogs, so overcrowding is more than likely.

"May through September is horrible for abandoned pets," he said.

Shelter staff have to consider euthanizing adoptable animals when they're at full capacity, but first they'll request help from privately-funded animal rescue organizations throughout the Carson/Tahoe region.

Animal rescue services such as Silver Springs Spay and Neuter, Douglas Animal Welfare Group, Nevada Humane Society, Pet Network, Puppy Love Rescue and Wylie Animal Rescue Foundation of Incline Village and several veterinarians have helped the shelter save hundreds of animals over the years, Blozle said.

However, not all of the animals can be saved. The shelter had to euthanize 32 out of 604 animals last year.

"That's really not a lot," Blozle said. "Last month, we had to euthanize zero adoptable dogs."

Tom Blomquist of Silver Springs Spay and Neuter said his 20-animal kennel for discarded pets is almost always full, but he continually finds space for one more stray and someone willing to adopt it.

He said he will spay and neuter the eight puppies, and feature them Saturday and Sunday at the Weekend Adoption Center at the intersection of Alternate 95 and Highway 50, or Four Corners, in Silver Springs.

Blomquist said the puppies have a greater chance of being adopted from the intersection instead of the shelter, because many potential adopters dislike the shelter environment.

"A lot of people just won't go because they don't want to see the animals they don't take," Blomquist said. "This way the puppies have a better chance."

The Lyon County Animal Shelter Adoption fee is $20, which includes a year of free licensing for county residents.



Contact Robyn Moormeister at rmoormeister@nevadaappeal.com or 881-1215.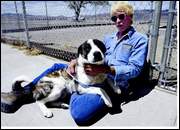 Cathleen Allison/Nevada Appeal Tom Blomquist plays with one of several dogs available for adoption from the Lyon County Animal Services. Blomquist, director of the Silver Springs Spay-Neuter Project, is organizing what he calls a "used dog sale" for Saturday from 11-3 at the intersection of highways 50 and 95A to help increase animal adoptions.

Dogs by the dozen
TERI VANCE, tvance@nevadaappeal.com
May 28, 2004
People looking to purchase puppies from a store or private breeder may be barking up the wrong tree, according to activist Tom Blomquist.

"There are so many adoptable dogs at shelters," he said. "They can be phenomenal."

To prove his point, he will be on the Champion Manufactured Home lot at the intersection of highways 95 Aand 50 on Saturday with a litter of puppies and other dogs from Lyon County Animal Services to adopt out. He will also pay the adoption fees.

"It's a hard reality that I almost have to work like a used-car salesman," he said. "It's heartbreaking the amount of dogs that are abandoned."

After his 2-year-old puppy Truckee died in his arms 11 years ago from birth defects caused by being born in a puppy mill, Blomquist and his wife, Lee, have been advocating for animals.

In 1996, they started the Silver Springs Spay-Neuter Project, encouraging residents of Lyon County and other areas to prevent unwanted puppies and kittens, reducing the amount of animals in shelters.

Tom Blomquist hopes that Saturday's adoption drive will lead to a series of weekends where several dogs are available for adoption at once.

"They will have all their shots and be spayed or neutered so they'll be ready to go," he said.

In addition to trying to find homes for animals in the shelter, the Blomquists also take care of 20 dogs at a time at their home.

They provide refuge for dogs that are nearing the end of their stay at a shelter or ones that are suffering from illnesses ranging from diabetes to blindness and deafness and missing limbs.

Lee Blomquist is studying to be a veterinary technician.

"I was one of those kids growing up who wanted to be a vet but some teacher along the way said girls can't be veterinarians, that's only for boys," she explained. "Now I'm working to be a vet tech."

She said people who adopt from their program of Lyon County Animal Services will not be disappointed in their pets, even if they are mutts - or Tom Blomquist's coined term, Indigenous Nevada Trailer Dogs.

"They offer unconditional love," she said. "They don't care if you had a bad day at work. They don't care if your significant other left.

"They just love you."



Contact Teri Vance at tvance@nevadaappeal.com or at 881-1272.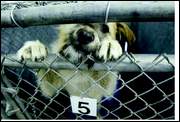 An 8- to 9-month-old female terrier mix waits for a family at the Lyon County Animal Shelter in Silver Springs Wednesday.

New Silver Springs animal shelter director enters the fray

Nevada Appeal Staff Reports
April 9, 2004
SILVER SPRINGS - After just four months on the job, Lyon County's animal control supervisor has come in for both praise and criticism from the county's often-contentious animal community.

Ted Bolzle took over the animal shelter in Silver Springs on Jan. 5 after six protests over the hiring process.

Bolzle is originally from Alabama and served in the U.S. Navy as a master at arms and dog handler.

"They hired me for my experience in law enforcement, but even more for my experience in dog training and law enforcement," he said. "I love training dogs, and my wife and I have a little ranch in Fallon where we raise horses and ducks and everything else."

The 38-year-old left the service when he became disabled. He served in the Pershing County Sheriff's Office briefly before taking the animal control job.

He has received support from the man who worked very hard to change the way Lyon County sought applicants for the position.

Tom Blomquist of the Silver Springs Spay and Neuter Project said he and Bolzle are working to restore the program, supplying pet food to elderly shut-ins after Wal-Mart stopped supplying the food.

"Through donations, and help from the spay and neuter program, we are still able to take care of homebound senior citizens," Bolzle said. "You can look up study after study and see that animals are vital to the mental and physical ability of senior citizens."

Bolzle was criticized by a volunteer who was dismissed early last week.

Katherine McLaughlin said a family emergency prevented her from fulfilling a commitment to the shelter, and she was let go.

On the one hand, McLaughlin said Bolzle gave indications he intended to put dogs down, and other said he rescued German shepherds for the drug dog program.

"I don't know what to think," she said. "I realize we have to surrender if we need the space and that biters are the first ones to go, but we worked to get those dogs out of there."

Bolzle said the shelter's goal is to put every adoptable animal into a good home.

"We had a lady drive in from Sacramento to adopt a dog," he said. "Our numbers are really good with placement, rescues and adoptions."

As for working with volunteers, Bolzle points out that the shelter's Web site at http://www.petfinder.org/shelters/NV07.html is maintained by volunteers.

"I would like to have more volunteers working with the animals versus volunteers answering the phone," he said. "We need people to take dogs for a walk, socialize the animals, and make them more adoptable."

As Lyon County increases in size, a new shelter is planned. Bolzle said staff are working on modifying the hours so the shelter better accommodates the community.

"If anyone wants to volunteer, I would appreciate them giving us a call," he said.

Blomquist described Bolzle's first few months with something he heard Gen. Norman Schwartzkoff tell Safari International attendees at their convention.

"When Schwartzkopf was a young colonel, he was put in charge of something and he asked what to do," Blomquist said. "He was told to take command and do the right thing. That's kind of what Ted has been doing."