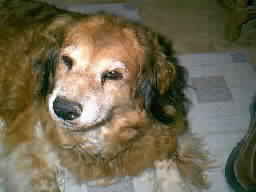 Chelsea was dropped off at the pound by her owners after their son went off to college. She was a mess, with grapefruit sized matts on her backside. She was 10 years old and never had been out of her backyard. She is now 16 and has been out of the backyard. She has been in parades, to rest homes and to the groomers-not in that order!! ?/?/86 to 12/6/04 18 years old.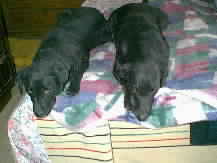 Peka and Katie. Peka was brought to us by a person who had asked us to have her spayed, then could not keep their home. Peka has an interesting relationship with one of our cats, Pester.
Katie was a 4 week old puppy when she was droped off. She never got a home because people thought she look too much like a Pit Bull. Her brother looked like a Cocker and got a home right away.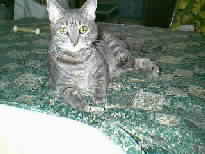 Cleocatra, queen of the known universe. Cleo came to us in 1993 from The Churchill Animal Protection Society in Fallon Nevada. She is almost 9 years old. This picture show her helping with a quilt.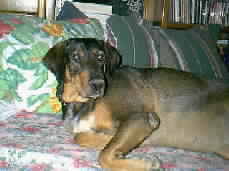 Violett is our "first" rescue dog. We had gotten dogs before and didn't realize we were rescuing them until later. Violett is Coonhound and GSP. We got her about a month after we lost Truckee. It was the day before Thanksgiving and we were at a hardware store. They were putting out Christmas trees. Tom made a coment about them looking like dogs at the shelter. We looked at each other, went to the shelter and pick her out. It was a long week because she had to stay at the shelter until after the holidays and she could be spayed. She is now 8 years old.